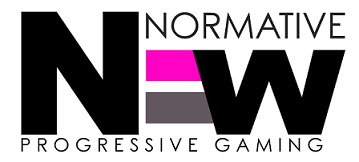 As great at the world of gaming is, it still has problems.  Vulgar hostility in online gaming, poor working conditions at studios, a lack of equality across all channels, and poor character diversity are just some of the issues that plague gaming.  While things have certainly improved over the years, there's still a long ways to go.
Enter New Normative.  While we don't claim to have all the answers, we're happy to share our opinions on the obstacles standing in the way of creating a better gaming environment.
Looking to contact us?  Drop us a line.  Learn about our commenting guidelines.
New Normative Staff
---
Celia Lewis
Staff Writer
Celia is a games and entertainment writer with a love of media that gives a voice to unheard perspectives. She has a strong belief that fictional worlds should reflect the diversity of reality. Besides that, she just really likes dragons and swords and aliens and stuff.
---
Deva Marie Gregory
Staff Writer
Deva is a fiction writer and actor who loves complex characters and dynamic storytelling. When she isn't writing or acting, Deva can be found gaming, reading, or playing with her cats.
---
Greg Micek
Editor
Greg has been writing on and off about games since the late nineties, always with a focus on indie games. He started DIYGames.com in 2000, which was the first gaming site to focus exclusively on indie games. These days he runs Cliqist, and New normative.
---
Jasmine Henry
Staff Writer
Jasmine Henry is a games and technology writer from the UK who has been playing video games since before she could tie her own shoelaces.  She is also a serial games hoarder (thanks Steam sales!) and dreams of a day when the representation of women and minorities in games is no longer debated and is simply just the 'norm'.
---
Joanna Mueller
Staff Writer
Joanna Mueller is a lifelong gamer and an aspiring novelist, which means she spends way too much time obsessing about fictional worlds. Coveting well written characters and story above all else, she hopes to shine a light on games and developers who step out of the standard mold and push boundaries. Joanna figures that if you don't live in the world you want yet, you should get out there and make a new one.
---
Josh Griffiths
Staff Writer
Josh still doesn't know what to write for these things. Should these be written in first or third person? I could go second person if I were a decent writer. Instead, you'll just read about his love of indie games, and cheese.
---
* New Normative has a strict comment policy that is actively enforced. *
Follow New Normative on Twitter and Facebook.

---