Fortnite is free to play, with no pay to win aspects. It only takes your money for cosmetic items. That accessible approach has made it a massive hit. Curating a community has lead to massive engagement with the game, this is reflected in how much money it brings in despite being completely free.
Yet it still makes hundreds of millions a month. It's estimated that 68% of Fortnite players do spend money on the game. So how much? How much would it cost to literally buy everything in Fortnite? Every single item. We've broken the whole thing down for you.
Everything Must Be Bought with V-Bucks
Fortnite'svirtual currency, V-Bucks, is the first roadblock to figuring out how much it costs to buy everything. It adds a level of separation to the micro-transactions, helping to divorce the digital items from their actual value and encouraging more spending. This exploitation of human approach to money is often viewed as cynical, especially with the young crowd that Fortnite attracts.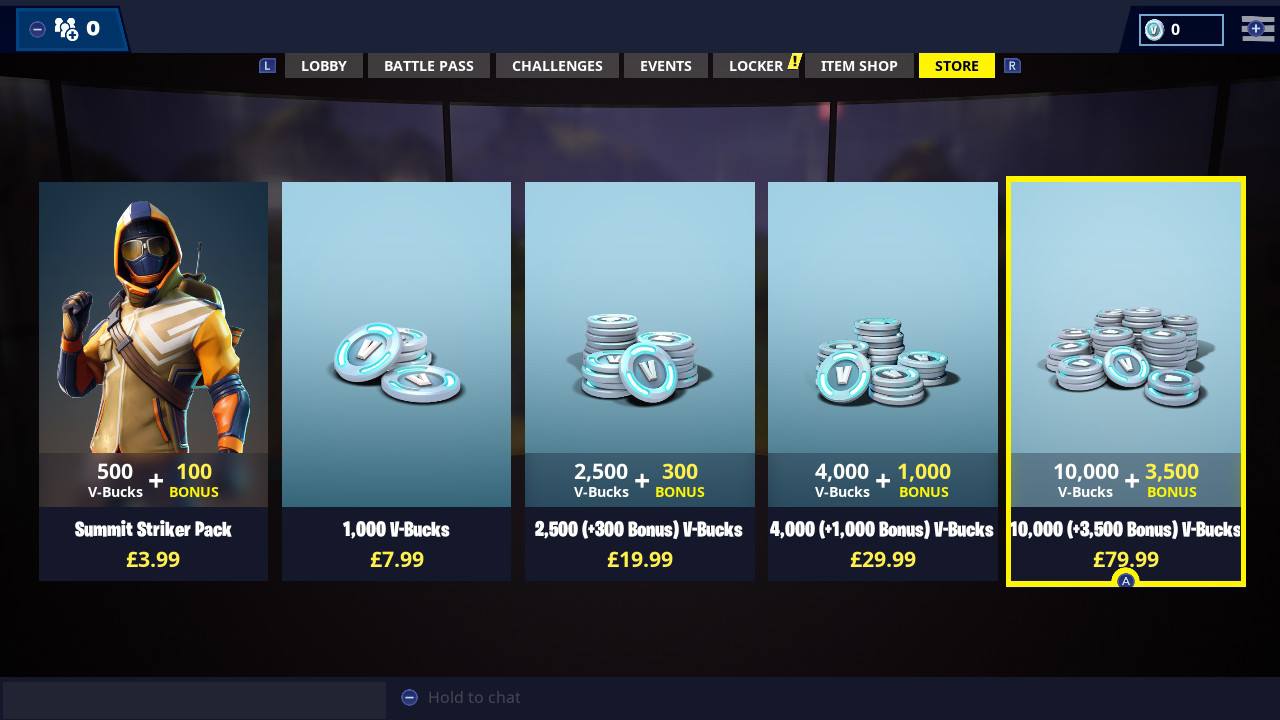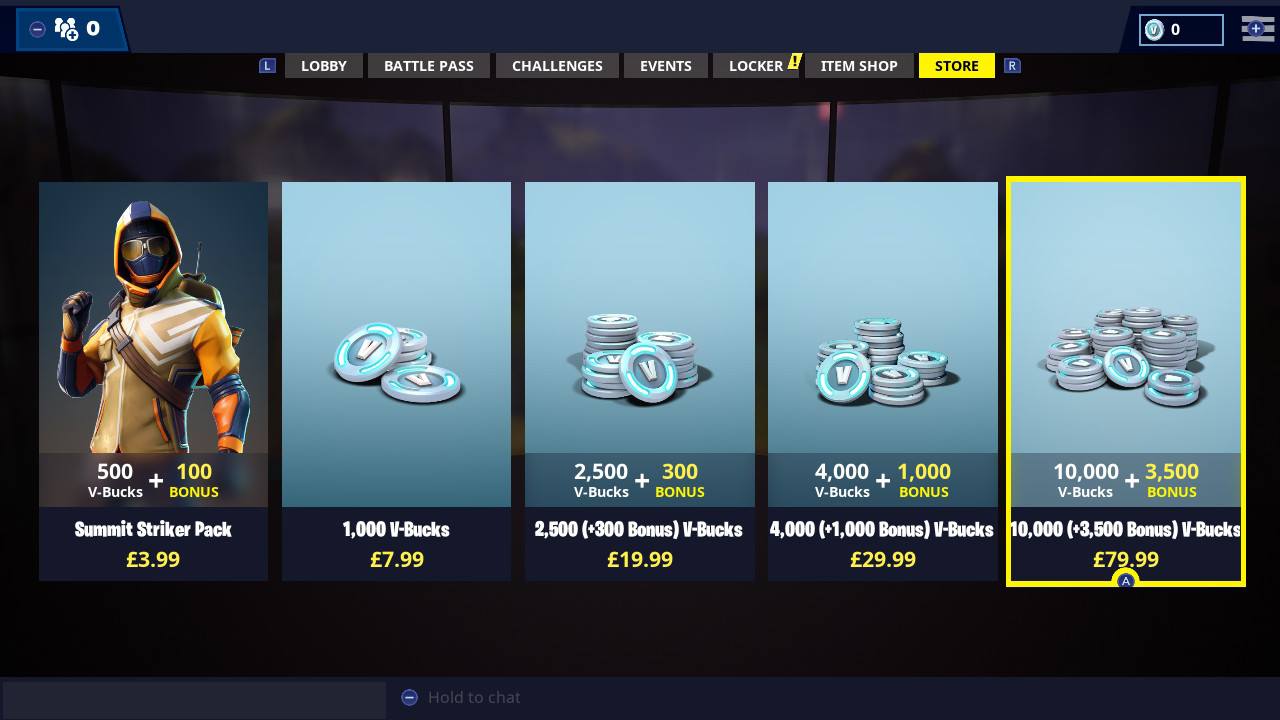 To work out how much the grand total is, we need to work out the V-Buck exchange rate. Putting the cost in terms of actual cash. You can buy the currency in different packages, with the largest offering the best value. If you were to buy your V-Bucks in the lowest priced bundle of 1,000 it would cost $9.99 or £7.99. Most skins cost marginally more than the basic pack, other items will cost less. This will usually leave you needing to buy more V-Bucks or leaving money out on the table. Either way, Epic profit a lot from this exchange rate and its sunk cost fallacy. For this, we're going to be sinking our cost in the biggest package.
The largest amount of V-Bucks costs $99.99 or £79.99. This gives you 10,000 V-Bucks and 3,500 'Bonus' V-Bucks. You're going to be receiving around 135 V-Bucks per dollar and 169 V-Bucks per pound. We'll be dealing primarily in these metrics, assuming everything your buying in the virtual currency you're doing in units of 13,500. This is the cheapest option for buying in bulk.
The Item Shop
Fortnite has a crazy amount of skins. They are more expensive and more expansive than any other item. The item shop rotates them. To purchase every single skin in the game, it would have taken some dedication to make sure you missed nothing. Since this is hypothetical, let's assume our hypothetical eccentric Fortnite lover managed this.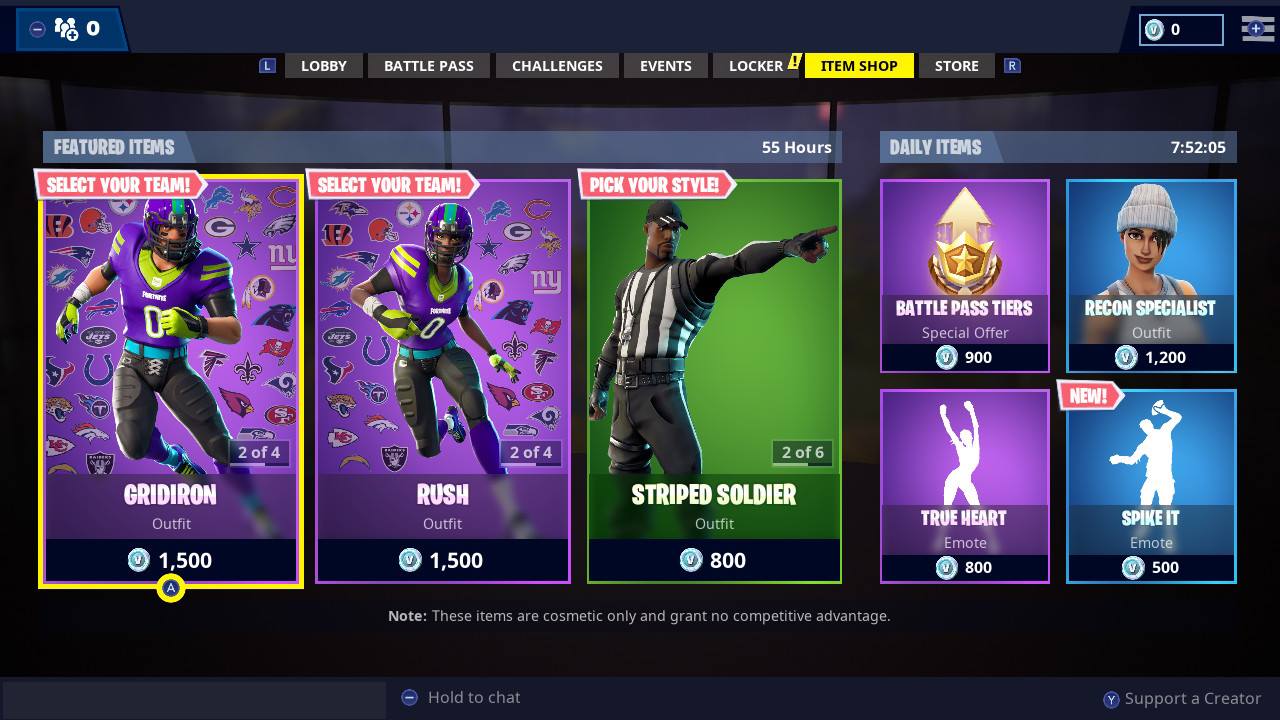 If you managed to buy every skin, your bill would currently be 239,900 V-Bucks. You would have bought 18 of the largest V-Buck package to afford all of this. At a price of $1,799.82 or £1,439. This isn't even all the skins. This is only those you can't get from events or the battle pass. We'll be covering their costs later.
The other cosmetics on offer are all at slightly lower prices. The harvesting tool is the term for a pickaxe you swing to destroy scenery. This lets you gather materials to build. It's a key part of Fortniteand one that many are keen to customize. This is a cheaper option than the skins, but to purchase all of them it still costs 64,800 V-Bucks. Less than a third of the price of the skins. Purchasing all of these along with the skins would add up to 304,700 V-Bucks. You'll be needing 23 lots of the largest bundle to facilitate your lust for harvesting.
This will cost $2,299.77 or £1,839.77.
How Much Does It Cost To Buy All of Fornite's Dance Moves?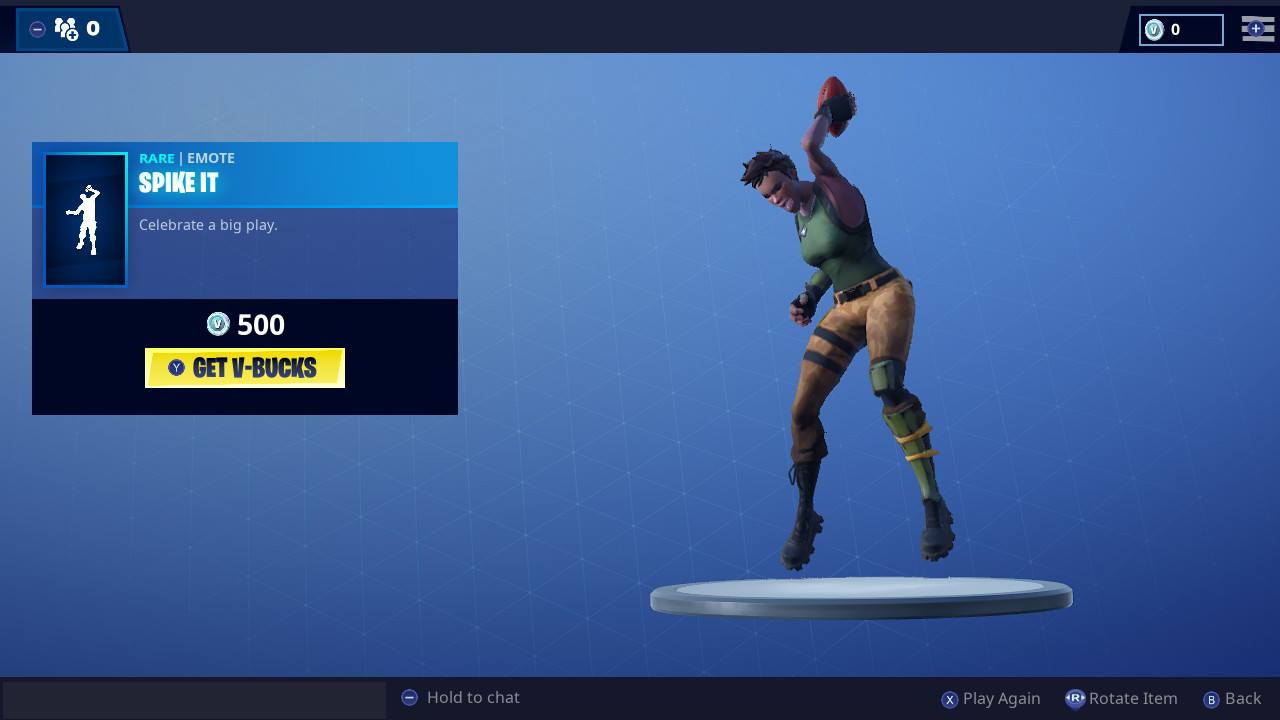 So you've got a fancy pickaxe and you're dressed up as a tomato man, are you happy now? No, of course not. Someone has a glider that you don't, and your hypothetical jealousy of not owning that look is about to boil over. How to stop it? Buy all of the Gliders. That's going to cost 62,400 V-Bucks. There's not even that many gliders, they're just bizarrely expensive. Your current total is 367,100 V-Bucks. You'll need 28 bundles of V-bucks to purchase this, which is $2,799.72 or £2,239.72.
Now we are onto the Emotes. There's a staggering amount of them, but in fairness, they are a cheap item. They add up to 40,500 V-Bucks. We're also going to throw backpacks into this section because there's not many of them. There's a single pack and it costs 800 V-Bucks. All other back bling comes as either battle pass items or with other cosmetics. Along with the last total, this makes 408,400 V-Bucks. 31 packs of currency, or $3,099.69, or £2,479.69.
The Fortnite Battle Pass?
Fortnite's battle pass is divided into a free tier and paid tiers, each unlocks a certain amount of content. If you purchase the battle pass, you can level up through the ranks to unlock all content, accumulating cosmetics as a reward. The cosmetics unlocked in the battle pass weren't included in the last two sections. We're working under the assumption that our hypothetical obsessive player is willing to level up these passes every time.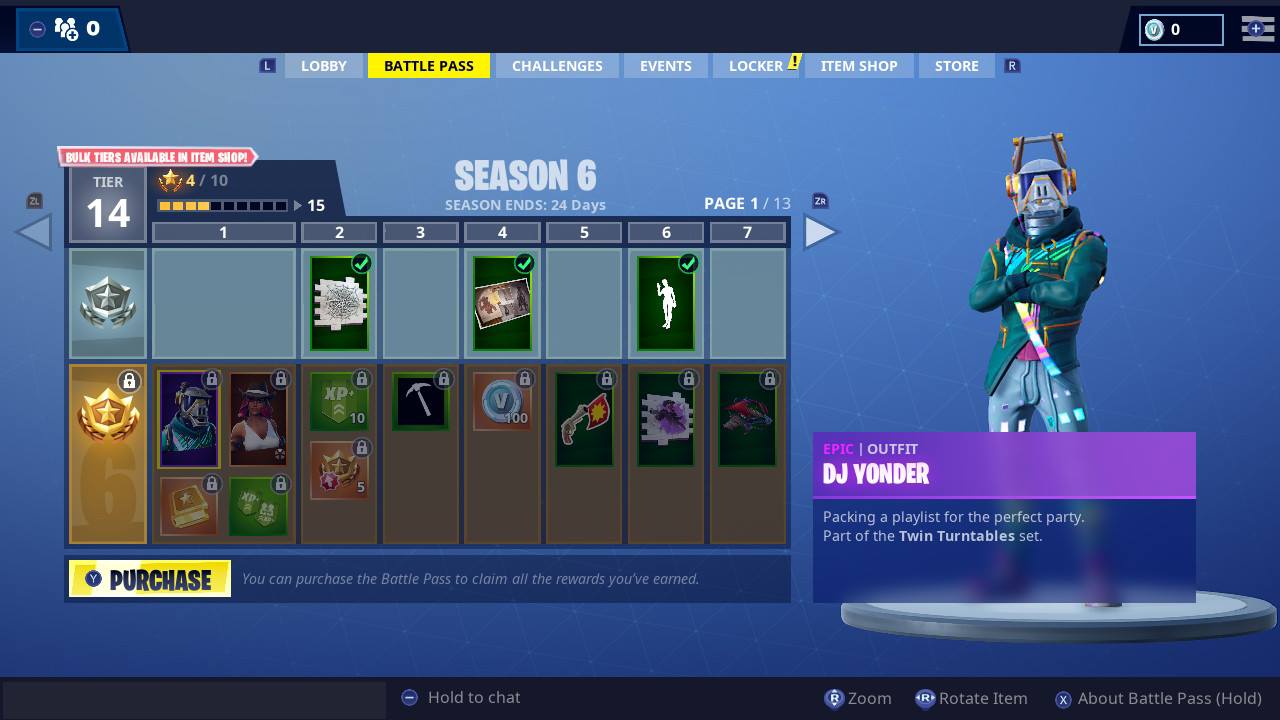 The price of each Battle Pass is 950 V-Bucks, although the first initially sold for 1,800. With everything they unlock, this is considerably better value than the store. These would run you 5,600 V-Bucks. When added to our prior totals, the cost is now 414,000 V-Bucks, which you can still buy with 31 packs of V-Bucks.
However, the Battle Pass allows you to earn V-Bucks at different points in its tiers. This gives you some V-Bucks back. If you complete a battle pass you'll end up with more V-Bucks than you paid for it. Fornite works under the assumption that you'd rather spend those V-Bucks on cosmetics. With every battle pass, you could have earned 6,900 V-Bucks. Not really enough to make a dent in our total, you'll still be 407,100 V-Bucks in the hole.
What's The Grand Total of V-Bucks?
There is a cosmetic not yet included in all of this. It's a simple outfit, one that you'll see a lot. It comes free with the smallest purchase of V-Bucks. The Ace. We can't be a skin down, not after spending all of this money! So we need to buy this Ace pack, bringing with it 500 V-Bucks and 100 Bonus V-Bucks. That should put a dent in our total!
After we've deducted the V-Bucks earned through the battle pass and those purchased along with The Ace, we need to purchase 406,500 V-Bucks to get access to everything in Fortnite. Purchasing 30 packs of V-Bucks at the highest value will get you 405,000 V-Bucks. For the remaining 1,500 V-Bucks, we can purchase 2 packs of the 1,000 package at $19.98 or £15.98. This is the cheapest way of doing it. Although we will end up with 500 spare V-Bucks and nothing to spend them on.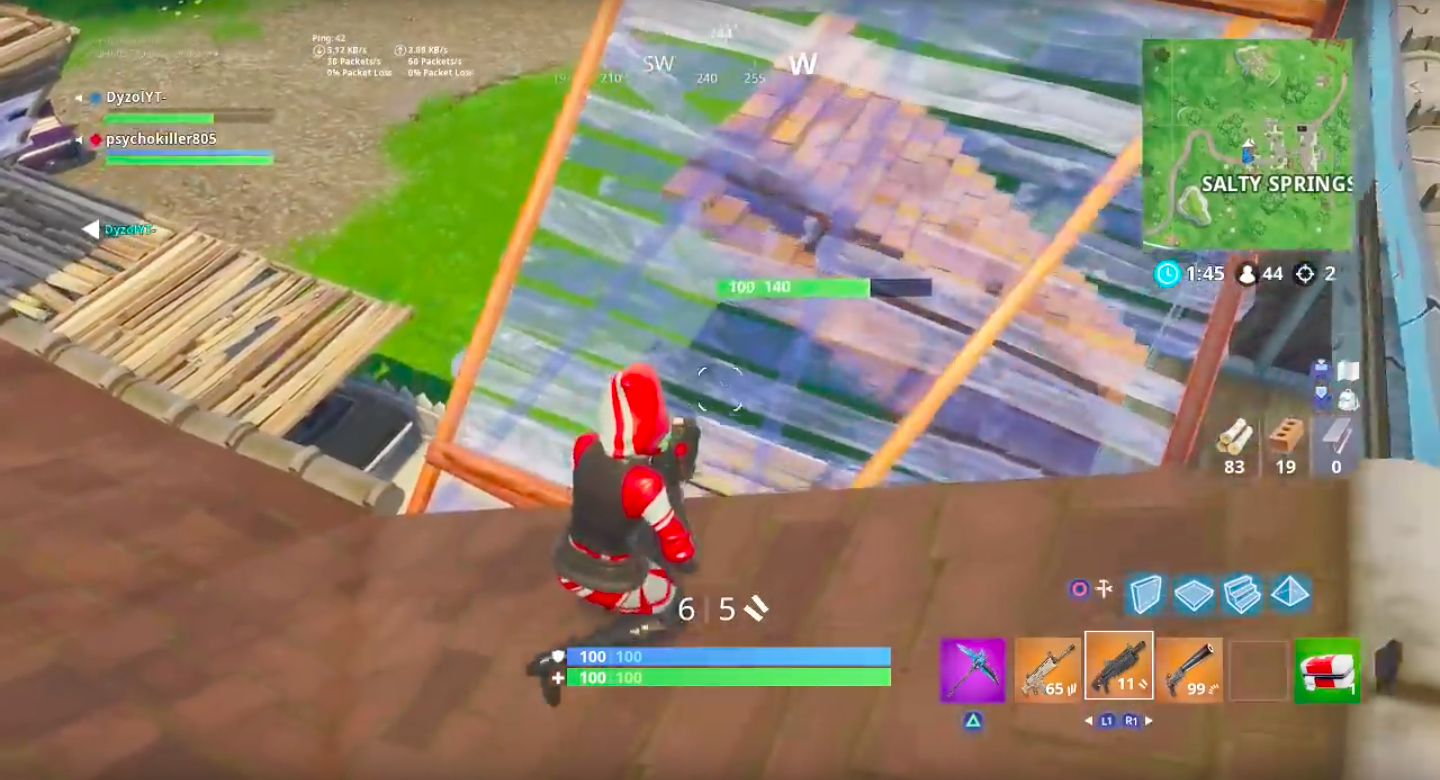 In order to purchase everything available in Fortnite, we will need to hand over $3,024.67 or £2,419.67 worth of V-Bucks.
How Is There Still More?
Yeah. There's more. Those sneaky guys over at Epic have sometimes sold things outside of the game! There are some items that are only obtainable through packages for real currency. If we really want to get everything, and since we've already spent 3 grand let's assume we do, we'll have to purchase these too.
First, there are the exclusives that come with paying for Twitch Prime. There have only been two of these packs so far. To be generous we're going to say our hypothetical player only paid for Twitch Prime for two separate months, to redeem these packs. Similarly, there's the PS Plus packs. Again, we'll assume you're being a little sneaky and only paying Sony for two months. That'll all be $41.97 or £29.96.
There are also some skins only available in bundles. We're going to be conservative and say we just purchased these through their codes rather than through purchasing the entire bundle. That would entail buying consoles, so we're going with the cheapest option to get this content. There is the Frostbite, The Eon, The Double Helix, and The Bomber. Each came bundled with a different company's product. Purchased in the cheapest form we could find, be it through key codes or a game pack, this will cost $150.36 or £115.96.

This all comes to a grand total of $3,217 or £2565.59.
With 500 V-Bucks to spare. Enjoy them.
The following two tabs change content below.
Jordan Ashley
Jordan Ashley lives in the middle of the UK with two dogs who routinely beat him on Mario Kart. He's a big fan of playing Wind Waker over and over again while ignoring all other tasks. He also likes Craft Beer and screaming at Splatoon.
Latest posts by Jordan Ashley (see all)