Embodying the spirit of encompassing all gaming, the IndieCade showcase at E3 2019 featured tabletop games too. This included Thorny Games' Dialect: A Game About Language and How It Dies.
But before players can reach the destruction of a language, they have to create it first.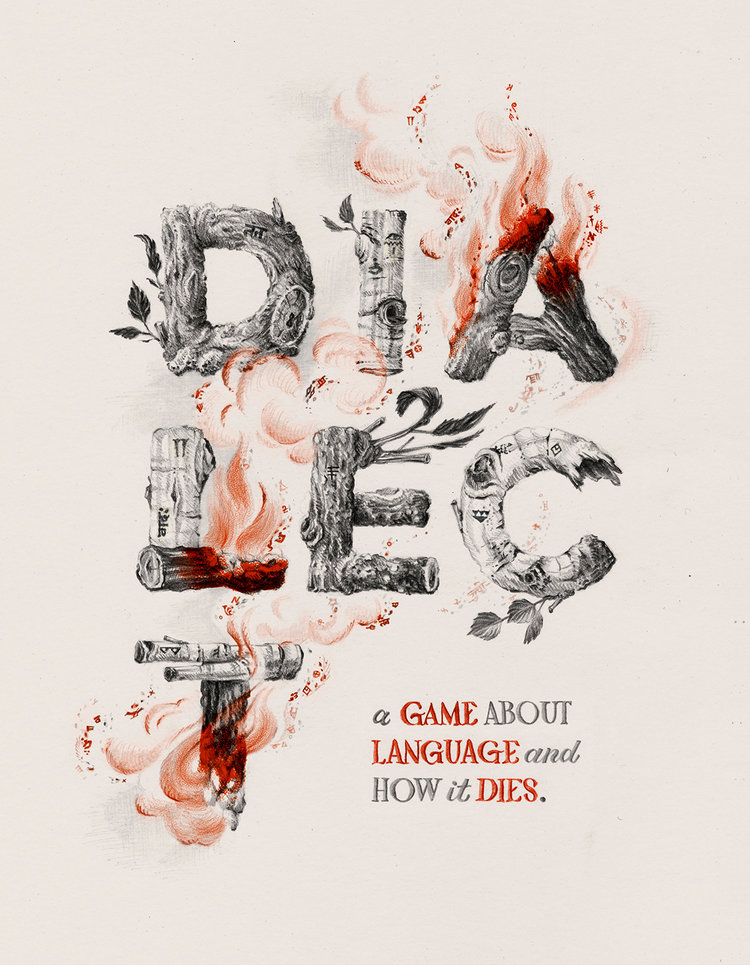 Communally Created Words
"For every turn of the game, you play one of the cards from a hand and explain why you have a special word for a concept," said Hakan Seyalioglu, designer and co-founder of Thorny Games.
Seyalioglu explained that players "tell a story as to why" this word is used in the new language they're creating together.
For example, Seyalioglu said people may use "storm-scare" to describe the dread of a storm. Then they have to use that new word in conversation as a character.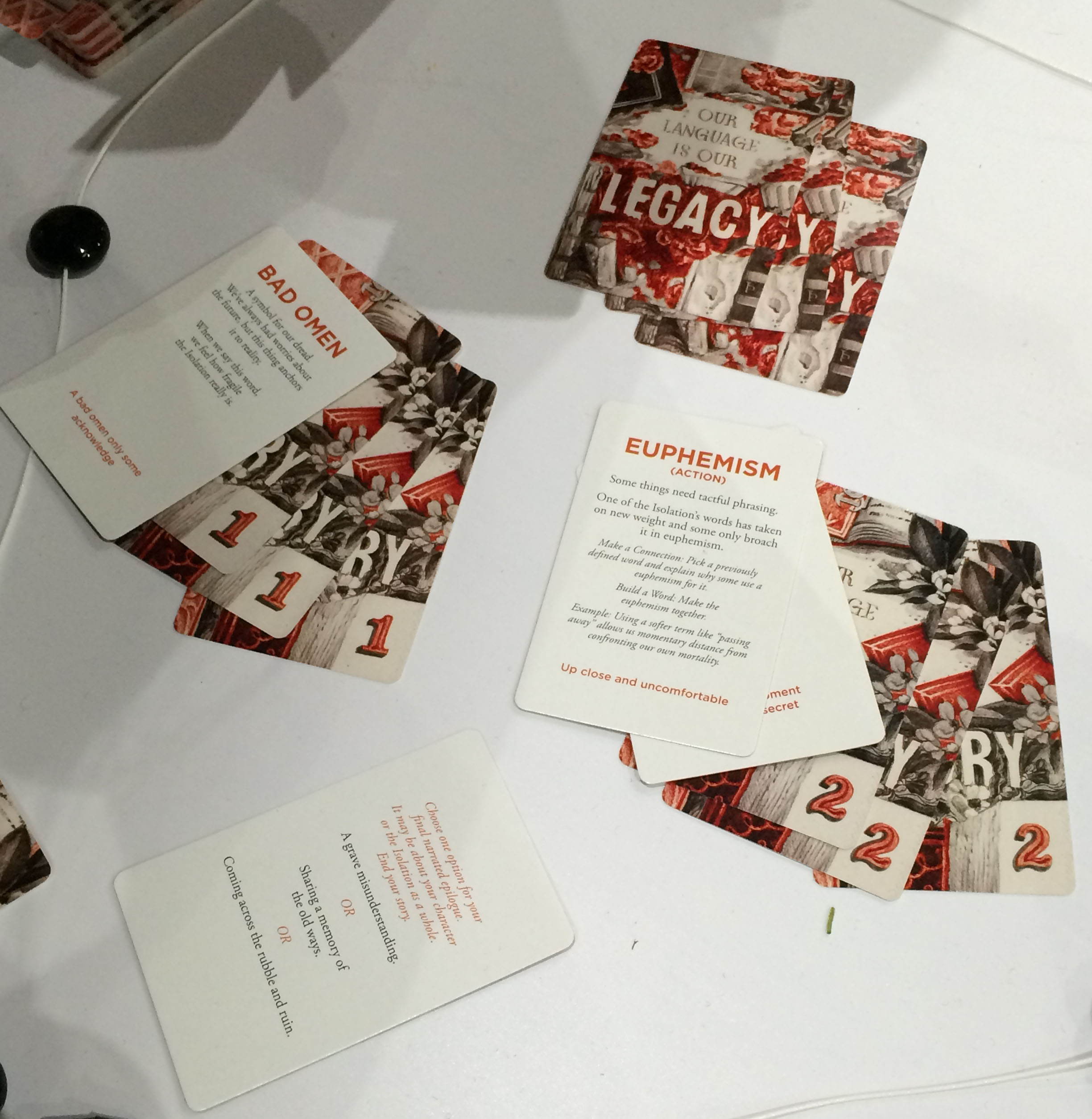 Seyalioglu added that over the course of the game, players "go from eventual birth of community to eventual death of community," suggesting strong ties between language and community as a whole.
"Dialect is really about how you can define a community through the way they speak," said Kathryn Hymes, designer and co-founder of Thorny Games. It focuses on how even just a group playing a game together can build a mini community.
Dialect Vs. Language
But what is a dialect? Is it a type of language?
"It's tricky [to define] what's a dialect and what's a language," Hymes said. However, she described dialect as often the spoken version of language. "Dialect is kind of speech in action."
Hymes added that region can be a way to talk about dialect. For an example, she said that what could be considered the "California valley girl" way of speaking could be a dialect.
"The fact that I'm female means I speak a certain way," Hymes said. She also added that her gaming vocabulary affects her dialect too.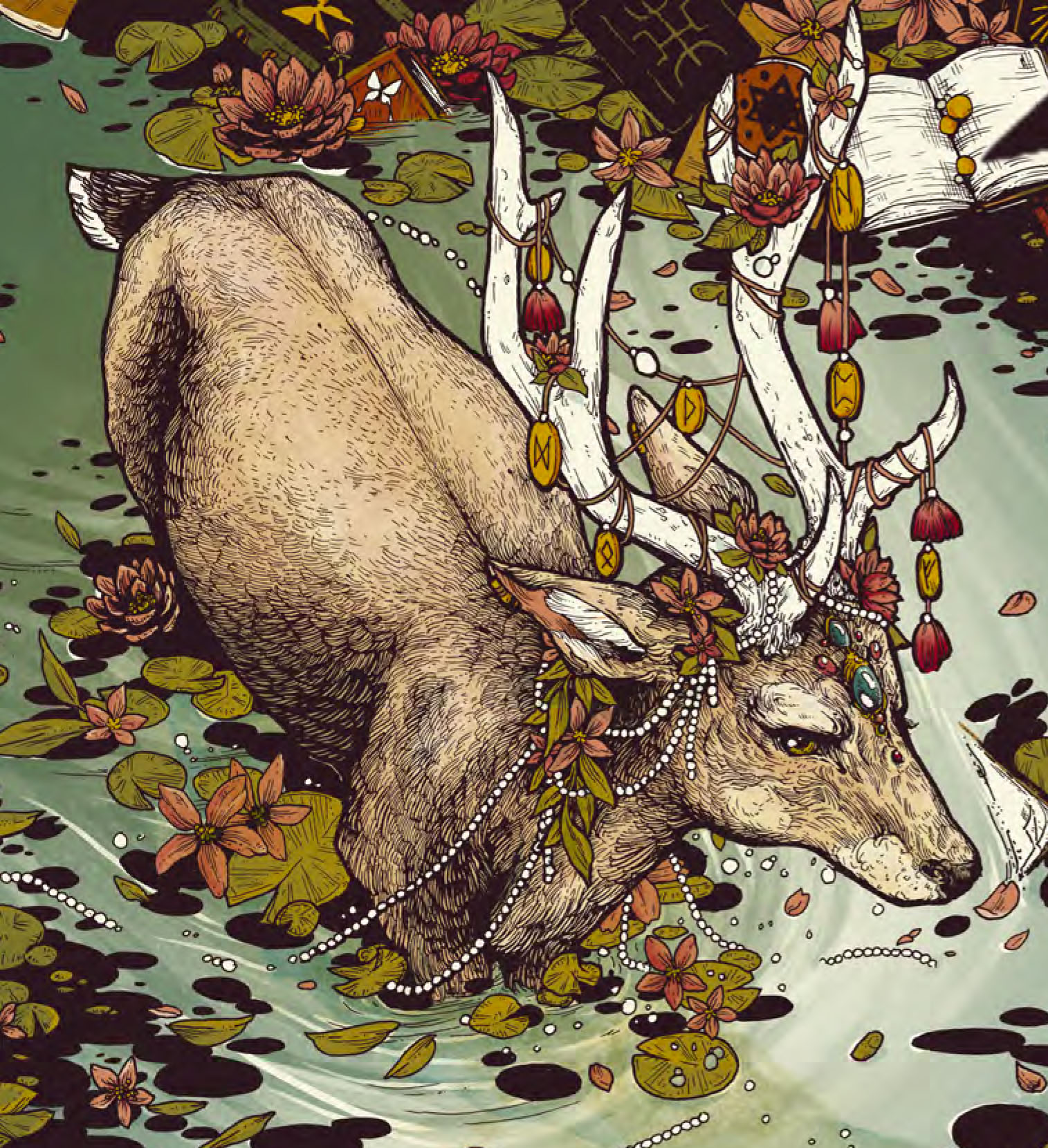 Wolf Communication and a Pilgrimage to Mars
Besides cards, Dialect consists of a book that contains rules, playsets, lore, and art by Jill De Haan and Erica Williams.
"It comes with neat essays from different contributors," Hymes said. She shared examples that included linguist Steven Bird's essay about language revitalization, and writing by David J. Peterson, creator of Game of Thrones languages.
Hymes also discussed the four base gameplay settings—or backdrops—that she and Seyalioglu wrote as the core of Dialect, allowing people to experience a variety of different scenarios:
Play as the first pilgrims to Mars.
You're machines in the far future that have to clean up Earth after humanity leaves them behind. (You can feel the WALL-E vibes.)
Be thieves who have to work at the docks and develop a secret code.
Make a 1980s U.S. compound to keep the rest of the world out.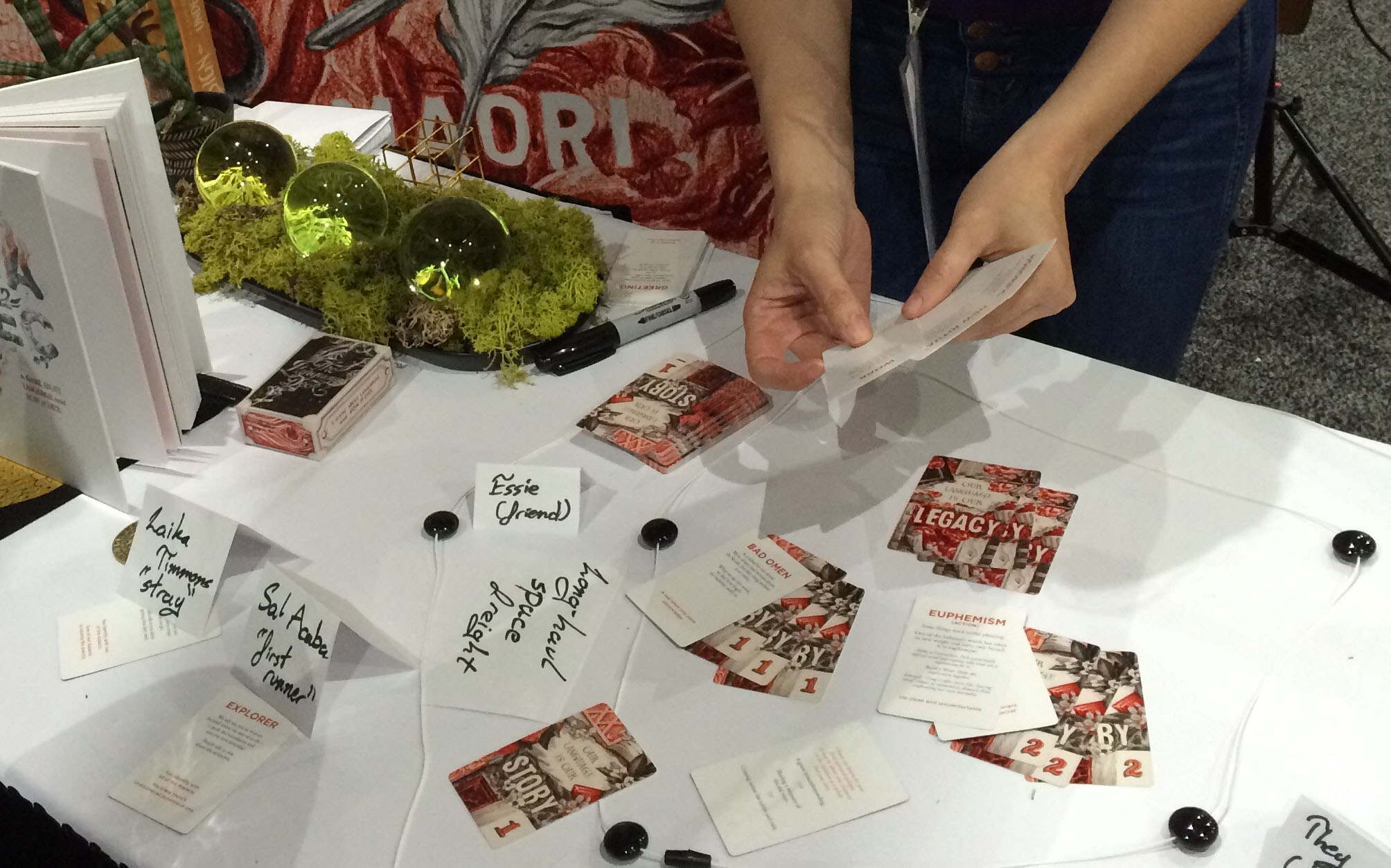 Dialect has other backdrops outside of the core four. It even has a scenario where players have to communicate as wolves. Hymes explained that they worked with other designers, artists, and activists to write more backdrops for the game.
"We do our own editing pass for consistency, to make sure everything is of uniform quality," Hymes said. "We felt the game would be richer with different voices. There are different qualities they bring as people."
Hymes added that Dialect's book has a section dedicated to helping people create their own backdrop to play through.
From Computational Linguist to Game Designer
Seyalioglu commented that his fellow co-founder and partner at Thorny Games is more language-focused, and it shows.
"My background is in linguistics, computational linguistics," Hymes said. "I studied math and linguistics at school."
Describing them as her two independent passions, Hymes shared that they led to a job in computational linguistics, which revolved around "teaching computers to deal with human language." In fact, Hymes said she became the first computational linguist at Facebook.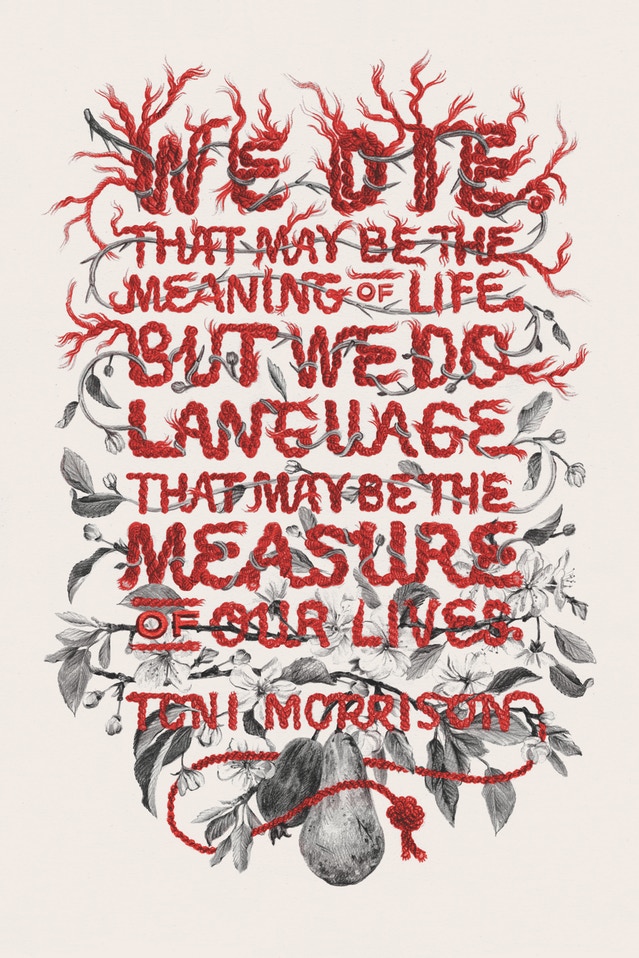 But she had always enjoyed tabletop games, and later grew interested in indie RPGs too.
"I think I felt at home in a game community for the first time," Hymes said, adding that the indie RPG community is supportive of new designers.
Forming a team with Seyalioglu has also been important to her work in game development.
"We are life partners in addition to business partners, so that helped," Hymes said. "We played Battlestar Galactica on our first date. A really solid way to start a relationship."
The two have gone from playing games together to making games together.
Using Games to Explore Language
"All of our games are about language and cryptography," Hymes said.
Dialect is the second title that Thorny Games has published, with digital and print copies available on their website, along with a free preview. They previously released Sign: A Game about Being Understood, and they're currently working on Xenolanguage: A Game About Language and Thought.
"Language in particular is a good way to think about identity and community," Hymes said. "Cryptography is a really interesting way to talk about trust."
She added that their games are "almost a Trojan horse way of talking about complex issues like community."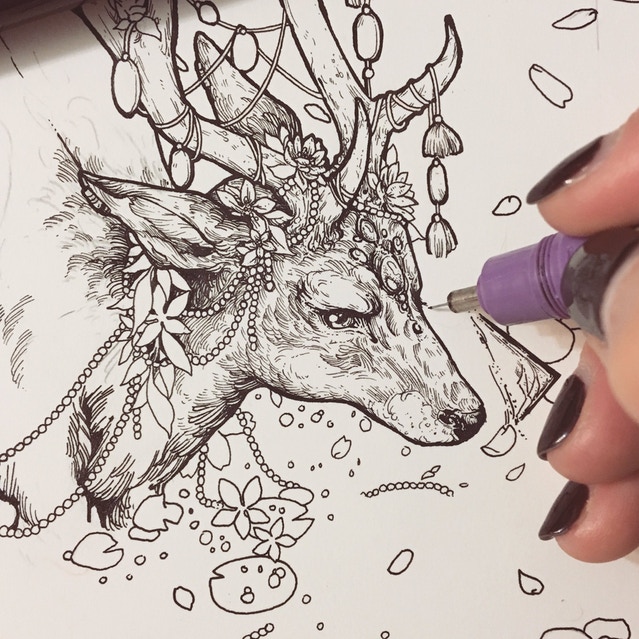 Why the focus on community?
"I think largely because those are human stories, and what is deeply seated and rooted for all of us," Hymes said.
She shared that more and more, she wants games that are close to her heart and explore other lives.
"Build worlds, those kinds of things," Hymes said.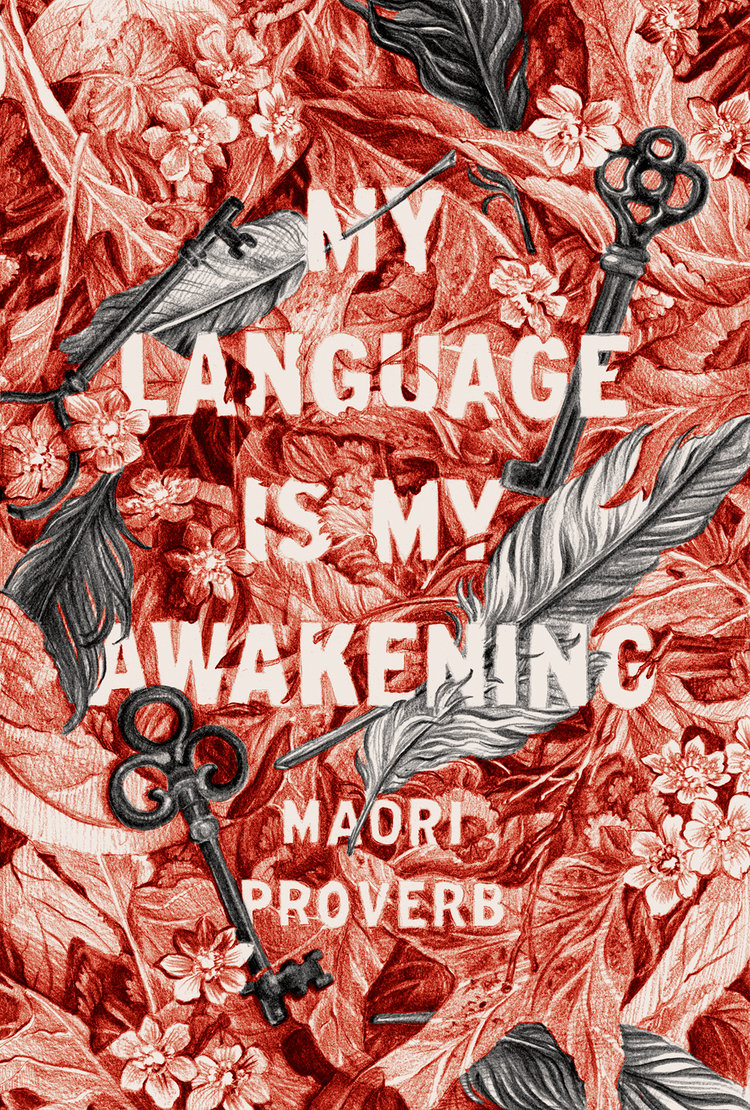 The following two tabs change content below.
Alyssa Wejebe writes about games, reads about games, and plays them too. RPG, hack-and-slash, and fighting games are some of her favorite genres. She loves nonhuman characters. One of her earliest gaming memories center around battling her grandmother and younger brothers in "Super Bomberman 2" on the SNES.
Latest posts by Alyssa Wejebe (see all)