On January 18th, Twitch streamer Hbomberguy tweeted "here we go….HERE WE FREAKING GO". With that simple message, he started a stream that would attract attention from all corners of the world.  Out of pure spite for transphobia and compassion for youth in need, a movement began.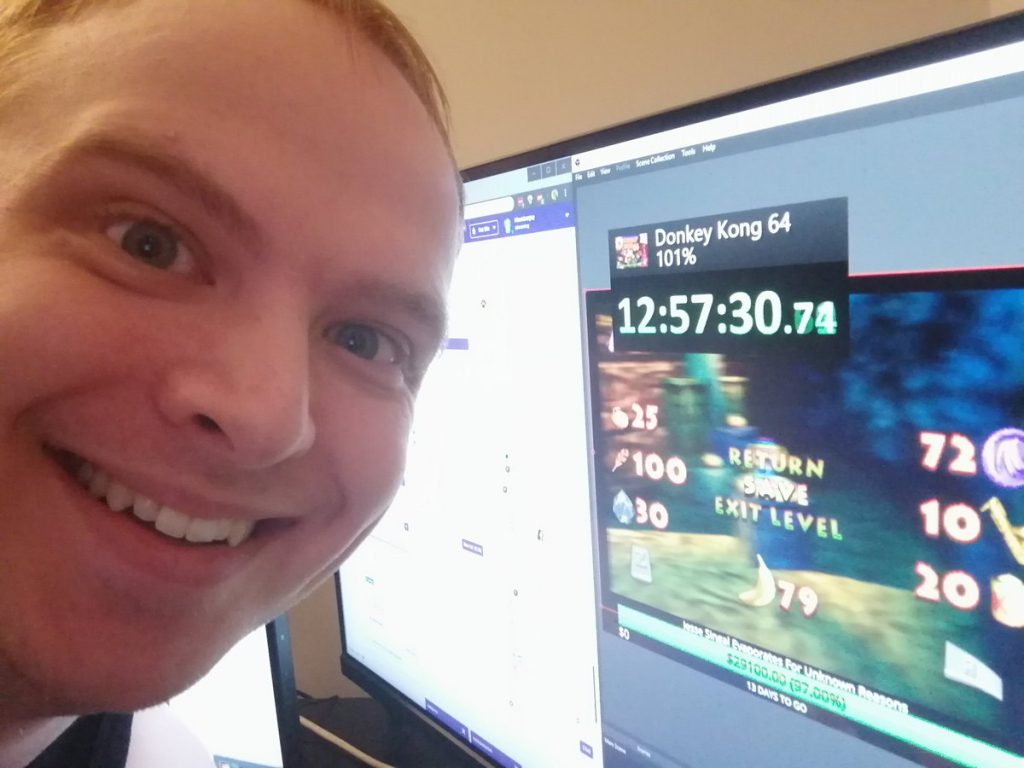 The Beginning
This all began when Hbomberguy decided to do a charity stream of Donkey Kong 64, a game he had never completed. He started this stream to raise money and awareness for Mermaids UK. Mermaids is a nonprofit that supports trans and gender diverse children and teenagers.
In the UK, a portion of the money spent on the lottery goes to grants for deserving charities. Mermaids UK was chosen to be one of these grant recipients. For a nonprofit, this is a big deal. Unfortunately, someone had to come along and ruin it. Graham Linehan, a transphobe, started an email writing campaign to the National Lottery remove Mermaids as a beneficiary. The National Lottery soon said that their status was "under review."
Hbomberguy was not here for that. He made a delightful video calling out Linehan as a "trash man," "piss boy," and a "prodigeous buffon."  Then, he announced the date and time his stream would start, saying he would stay on until he finished the game. Or until he died, but since that's against Terms of Service, hopefully just until finishing.
An Outpouring of Support
The stream absolutely blew up. With over 50 hours in stream (with some time for sleep), over $340,000 was raised. This also doesn't count the donations that have been made directly to Mermaids as a result. Even after finally finishing the game, Hbomberguy left the stream on for people to continue to donate.
There were many guests on the stream as well, including some very high profile people. Alexandria Ocasio-Cortez, Josh Sawyer, even Grant Kirkhope, the voice of Donkey Kong, stopped by to chat. Even Chelsea Manning herself, network security expert, whistle blower, and advocate for trans* people, participated for some time.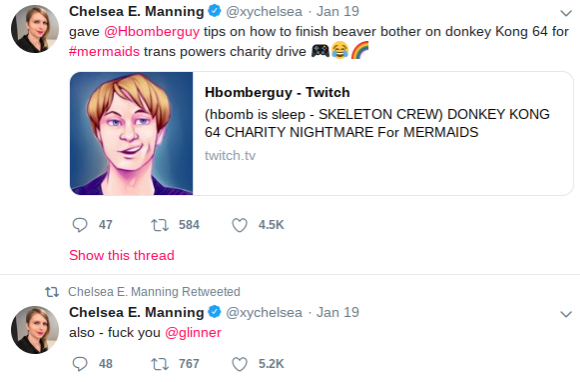 All these names just go to show to indicate how widespread this stream grew. The tweets and support from people all across the globe continue to pour in for this charity. This young streamer saw an issue, took matters into his own hands, and made a huge difference.
The Impact Moving Forward
The games industry is not always kind to trans* people. To get game industry professionals on the stream, and to bring the nostalgia for a Nintendo 64 game to a conversation about trans* rights is great. Representation does not exist in a void; discussing rights loudly and proudly adds to the discussion.
There are many people tuning in who may have not understood how much discrimination there is towards trans and gender nonconforming individuals. Many people in the chat are getting to tell their stories as well as educate others.
Given the public support, hopefully the National Lottery review will show that Mermaids deserves the lottery grant as well. They are an agency that provides services to children who often don't have any support at all. The donations go to fund training for volunteers, a help line, activism, and more.
The following two tabs change content below.
Devin
Devin Tea is a writer living on the East Coast with her cat, dog, and collection of almost every Nintendo console and handheld.